About Us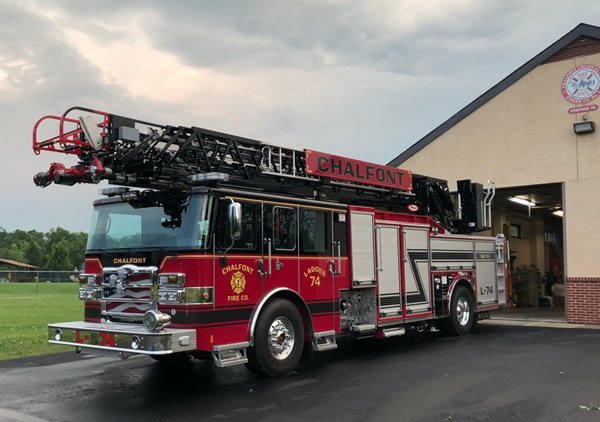 Chalfont Fire Company is an all-volunteer organization consisting of members from the ages of 16 and up. Members of Chalfont Fire Company are trained in fire, rescue, and as of 2017, marine rescue. Chalfont Fire Company covers the response areas of Chalfont Borough, New Britain Borough, and New Britain Township between Stations 34 and 74. We also support Doylestown, Warrington, Hilltown, and Montgomery Township through mutual aid.
Station 34 has been at its current home of 301 N. Main Street since June of 2011. Station 74 has been at its current home of 1034 Schoolhouse Road since its founding in the 1980s. Our members are also members of the local community. Visitors that want to know more are more than welcome to stop by on Thursday evenings after 7pm.
Firefighting has become a family tradition for Chalfont Fire Company as many of our members are second or third generation members and firefighters. Chalfont Fire Company has active firefighters, general members, auxiliary, and fire police members. We also have numerous veteran life members to honor those who have given over 20 years of active service to the company. Our total membership consists of over 130 proud volunteers. Does firefighting sound like it is right for you? Here is how to join
Want to contribute to the fire company but are not interested in becoming a member? Not a problem, Chalfont fire company is always accepting donations from generous folks like you. Click here to donate.