History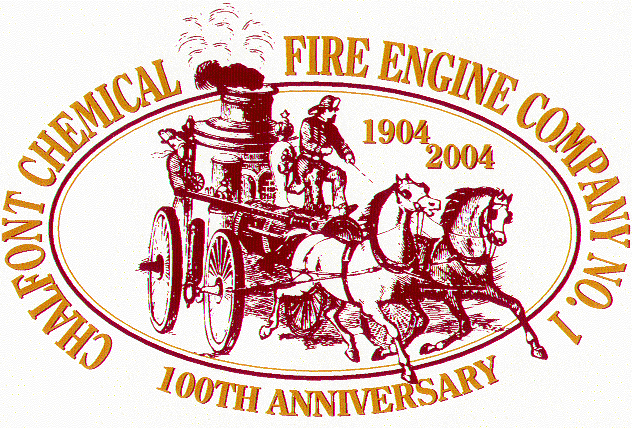 In February, 1904, a group of concerned local men met to discuss the needs for fire protection. In March of that year, they wrote a charter which was approved by the Commonwealth of Pennsylvania on April 26th. May 2, 1904, this organization became incorporated as "The Chalfont Chemical Fire Engine Company No. 1" for "the support of a fire engine, hook and ladder, and hose company for the control of fire."
The Fire Company had a beginning back in the horse and buggy days. It began as a volunteer group and continues as such with no paid members. Early equipment of this company was drawn by hand or by horses and mules. The first pieces of equipment purchased in 1905 were a 20 gallon, hand-drawn, 2-wheel truck and a barrel on two wheels. The first horse-drawn fire apparatus was purchased on January 7, 1909 for $185. This two-tank chemical truck was drawn by two white mules owned by George Leary. These mules were stabled in a barn near the present location of the Chalfont train station. At the sound of the alarm bell, the mules would leave the stables and run up the hill to the Fire House. In 1924 a 400 gallon pumper was purchased for $4,000.
In 1950, the fire company started the ambulance squad. This was done with the assistance of the Chalfont Lions Club who donated a 1938 Packard ambulance. The squad provided basic life support until 1995, when the state approved their upgrade to advanced life support status. In 1994, the fire company started to use paid emergency staff to provide 24 hours a day, 7 days a week staffing for the ambulance. The ambulance and fire company separated in 2007. Chal-Brit Regional EMS was created and is thriving in their new home at 201 Park Avenue in New Britain Township.
Additional support is given to the fire company by the Ladies Auxiliary, which was founded in 1925. The members of the Auxiliary hold fundraisers and give a substantial donation to the fire company every year. They also offer support by providing food and beverages at large fires and during training.
For over 100 years, The Main Station or Station 34 had been located at 101 N. Main Street in Chalfont Borough, having been built by Austin Griffith as a Post Office and fire house. The building also served as the town hall and police station. The original fire house had been expanded at least three times since 1904. In June 2011 Station 34 moved up the street to its current location at 301 N. Main Street in Chalfont Borough. In May of 1973, Station 54 was established at the New Britain Township garage at Newville Rd. and Rt. 152 North. However, Station 54 closed in 2006. In 1984, a ground breaking was held for Station 74. Station 74, referred to as the West station, is located at 1034 Schoolhouse Road in the Highlands development.